Hello everyone.
This is a special year, because as you might know, Re-Volt will be 20 years old this year, 9th of march. The game had been through so much, got a lot of improvements, new features, it is available in mobile phones as well, thanks to the developers and we've got a lot of content, tracks and cars as well in good and high quality.
Since as I've already mentioned this is a special year, Trixed and me announce that we working on 20 cars this year related this anniversary. We will reveal them in advance via pictures, but will make them available a little later. Mostly the reason is we want to make these cars as good as we can do. Hope you will like them.
To make easier to identify these cars, you will find a little logo on them with the text "20th anniversary collection".
As first car to debut is
Toyeca Evo-R Mk2
.
This car's concept, the model and textures by Trixed, so as most of the parameters, which was slightly tweaked by Kipy. Car's base was Toyeca which got some parts based on the Porsche Carrera GT which was converted by Skarma.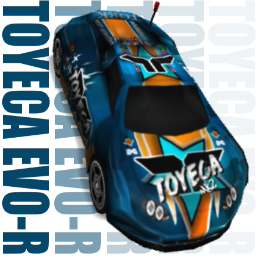 The upcoming cars will be announced under this post via comments.